Well, I've loved paper wreaths for forever (uh, well for at least a year)
and finally got around to making one of my own.
Mine is definitely not the best one I've seen,
and I'll probably end up doing it over again.
Sad, I know.
But I'm still going to show it because I did spend 1 1/2 hours working on it!!
At least I spent that time staring at this hot babe, right?
You know, come to think of it he was staring at me!!
=0)
This project only cost me $1 though because all I had to buy
was a foam wreath from the Dollar Store.
I got the book for free at the State Fair this year.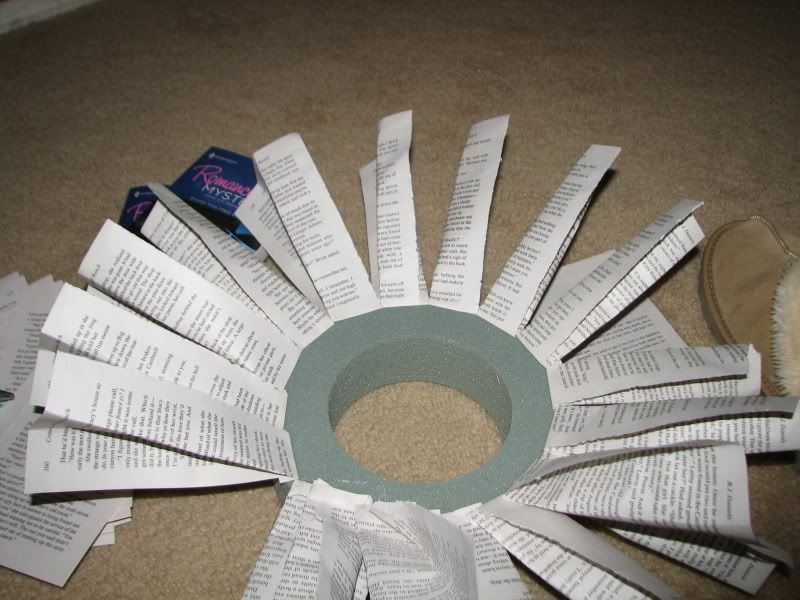 Everyone I went with got their book snatched out of their hands as
I deemed it an inappropriate read,
and pollution to our minds.
I made Haley get two.
For me of course.
I actually only used one book,
which means I have more to practice with
until I get it the way I want.
There are lots of tutorials all over the web
on how to make these beauties,
so I'll make it quick!
Tear out the pages, roll up or fold up each page
and hot glue each one to your wreath.
.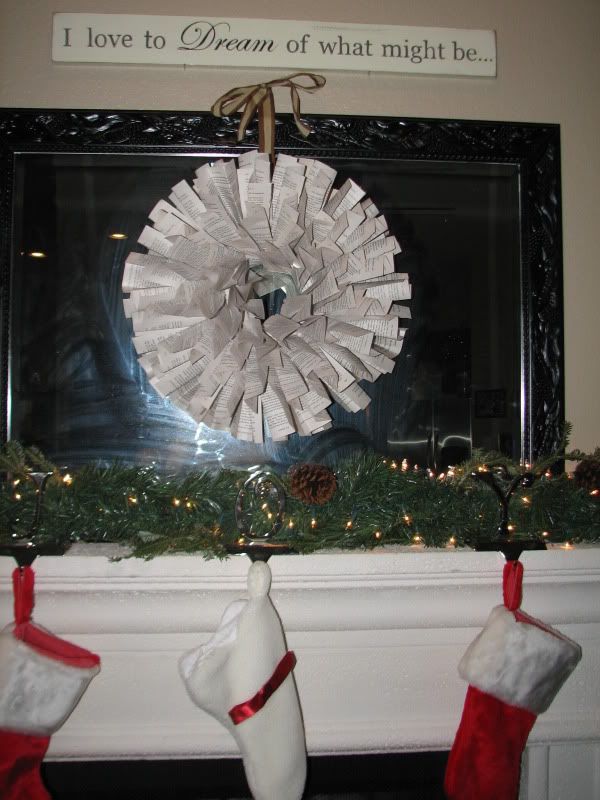 I folded mine, and now I wish I had rolled it.
Also, I started at the outside of the wreath and
worked my way in,
and I might should have done it the other way around.
But here's the final project.
I tied it to a ribbon, and hung it over the mirror above the fireplace.
Sorry for the blurry pictures.
I started with a flash, but I didn't want to show off all the
streaks my mirror has.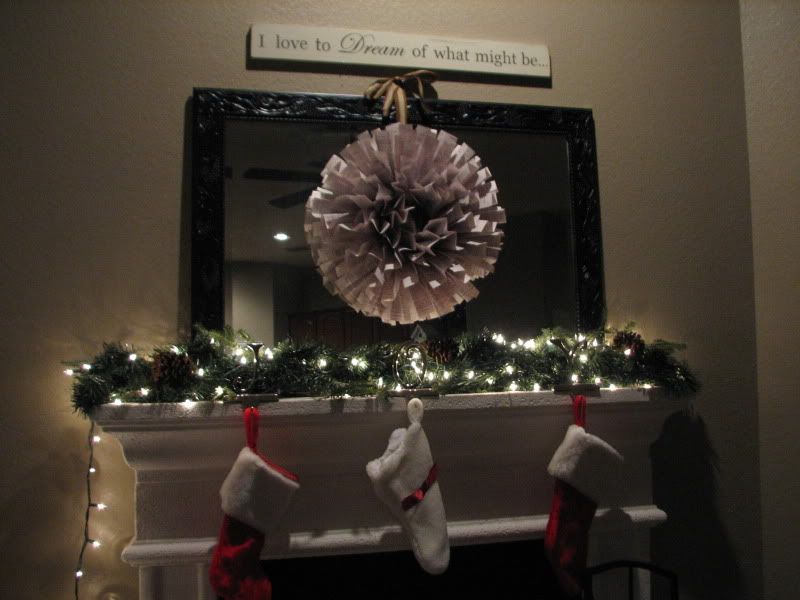 Whatcha think?
Be honest...it's okay, I will cry myself to sleep if you don't like it. I can handle it.
=0)
---------------------------------------------------------------
On a completely different subject,
I'm thinking of changing my blog host from Blogger to Typepad.
Have any of you used Typepad?
I've only been blogging this year,
and have kind of taken it slow as I get a feel
for how it works and all that jazz.
But next year I'm hoping to kick it up a notch
and post more often.
Any advice on which one is better?
Blogger seems a bit temperamental, and it's kind of a pain it seems
to load pictures and organize them in a post.
I will do some research online as well,
but was wondering what you all thought.

Thanks so much for reading!!